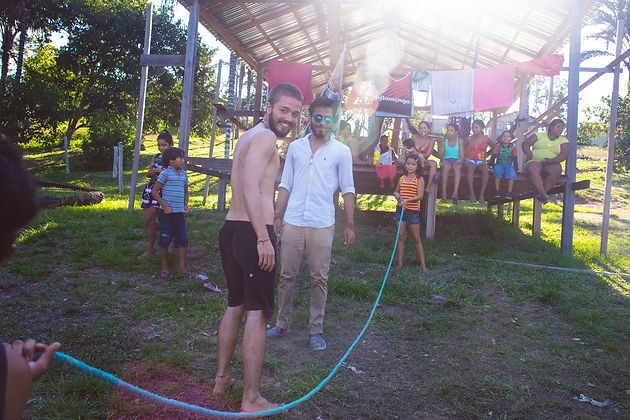 On a sunny and warm Sunday, everyone traveled by boat to the big soccer tournament in a nearby community called Santa Helena of the English. Soccer is one of the biggest passions of the Rio Negro reserve communities and the tournament is very important opportunity to be together and celebrate.
The instruction for the day, from Raquel, Bruna and Isabel, was to enjoy, connect with people and observe themselves in this process of meeting new people in a new community. Participants were invited to notice the judgments and assumptions that would come to mind and the impact of being a visitor, especially for those who did not speak Portuguese.
After an amazing lunch, the group spent the whole day watching the game, interacting with people and children, playing and resting. When the group went back to Tumbira, they gathered in the classroom for check out. Isabel, Bruna and Raquel asked them to draw one image of the day and write a word.
After dinner, Tulio and Harsh created an outdoor theatre on the lawn with blankets to show the movie : Embrace of the Serpent, complete with blankets, seating and popcorn. Some watched the movie, but many rested after such a long day outside.
Outcomes
Tangible
●  Experienced a local event (soccer tournament) in a neighbouring community
●  Traveled by boat along the river to see a new community
Intangible
Gained an understanding local soccer culture

Spoke with and connected with community members in an informal way

Played and spent time outside to digest past experience and reset

 

 

 

 

 

 

 

 

 
Please reload