This last morning in Tumbira began with a ceremony in honor of Bryans. Bryans had once explained that happiness is a kid eating a mango, full of juice all over his face and hands, leaking between his fingers. For this reason, the decision was made to plant a mango tree close to the school in his honor, so his happiness and light can  keep inspiring many people in Tumbira and across the planet. According to Baganda people (Uganda), "Mukasa is the god of plenty, who gave people food, cattle and children. Mukasa was deified hero - a human who was raised to divine status because of his generosity and goodness." Everyone also made their personal offerings to the river and to him.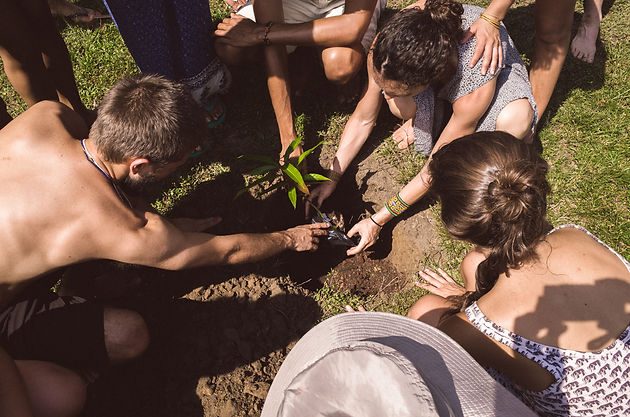 In the afternoon there was a heart-felt closing where participants shared appreciation for each other through a powerful activity led by Tulio. Three people sat in chairs in the center of a circle with their eyes closed. The others whispered or spoke into their ear what they appreciated about them, and those in the chairs just listened and received their words.
We also received the team of A Gente Transforma, a group that was arriving that day in the amazon, through another initiative in partnership with FAS, for an immersion in Mamairauá reserve to co-develop with the communities there products to boost their economy through design. It was the chance to exchange information about our methodology to inform and inspire their their program, and it was the chance to some of our group to be in touch with a different approach, that has had success in product led community development.  
At night there was a program official evaluation, where the following questions were answered:
What shined for you during the program?

What remained foggy or uncertain?

What are the insights/ learnings are they are taking from the program?

What are their next steps?
At night, Rozita presented her work with house composting solution at Daily Dump.
Please reload