After breakfast the group checked in expressing each feeling with a movement.  Then everyone packed and left Tumbira to visit another community, Três Unidos, located about an hour away by fast boat.
Bruna, Raquel and Isabel asked the participants to visit Três Unidos with the perspective of a tourist, knowing that community based tourism is the main economic activity of this community and that Tumbira aspires to a similar model in the future. The intention was to observe the similarities and differences, and also to reflect about sustainable community development and what this means.
Rafael, the FAS coordinator of Três Unidos and Adriano,  a FAS employee, received the group along with Kambeba community leader Vladimir. They shared stories and explained the main activities and challenges that they have and are facing as their community develops.
Rafael also introduced three community members who design beautiful t-shirts and became local entrepreneurs.
Vladimir gave context and history about the Três Unidos indigenous tribe, and how they have been working to rescue their culture and tradition. Over a walking tour, Vladimir shared the community's future plans to have a university there, the projects they are initiating and the importance of keeping the Kambeba's culture alive.
The group stayed playing with the kids and bought local products. Before lunch, people played volleyball and had a spontaneous swim.
Lunch was a buffet of various traditional foods. After trying all the delicious dishes, Orinho demonstrated how to make a bow and arrow and then led an archery practice. He also told the story of how some community members were invited to train for and participate in the Olympic Games on behalf of Brazil.
To finish the day, the Kambeba children danced their traditional dancing and by the end the whole group joined in. Before heading back to Tumbira, the whole group and the children gathered for an afternoon snack with juices and cakes.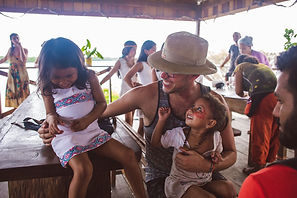 Back in Tumbira, there was the check out when the group shared their feelings, thoughts and insights of the day, as well as their questions and doubts. Many questions and reflections about sustainable development were surfaced that would be explored in the follow days.
Outcomes
Tangible
●  Visited a community with different traditions and culture.
●  Got in contact with one of Amazonian indigenous traditions ( Food, dance and archery)
●  Learned about the history of Kambebas
●  Learned about the Três Unidos community and their future plans.
●  Learned about Três Unidos entrepreneurs and their projects.
Intangible
●  Reflection about the differences and similarities between Tumbira and Três Unidos
●  Broadened knowledge about amazonian communities and diversity
●  Strengthened relationships with community members.
●  Reflection/ discussion about the contraction between sustainability and development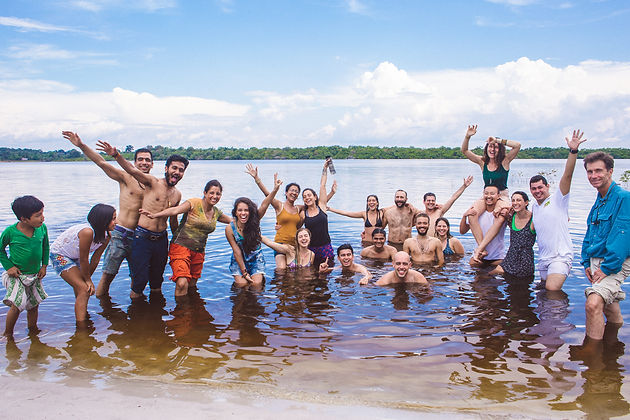 Please reload